Berkeley Border Guards Coatee
A beautiful pre war militia uniform in all it's splendor and sewn with General Staff buttons, this coatee , from the collection of the Company of Military Historians at the Virginia War Museum, is indicative of the pomp and finery of southern militias of the era. The following information is the exact accession and acquisition  data from the museum.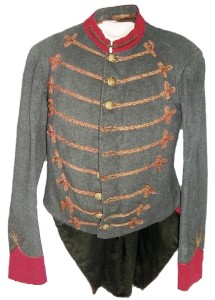 Virginia Militia Coatee Attributed as being from the Berkeley Border Guards Coatee and Worn by Captain John Q. A. Nadenbousch, c. 1855-1861.

This piece was acquired from Walter J. Taylor, an antique dealer from Virginia, by Company of Military Historians founder Anne S.K. Brown as one of the initial pieces in the Company's collection. The attribution as to the origin of the piece mostly came from Mr. Taylor, but there is no paperwork associated with the piece to verify this.

The coatee sports nine US staff buttons down the front. Six are backmarked: "HORSTMANN BROS. & Co./ PHILA.(buttons 1-5 & number 8 starting at the bottom & going up); two are backmarked "SCOVILL MF'G. CO. / WATERBURY" (buttons 6 & 7); and one is backmarked "* EXTRA * QUALITY" (button number 9 from the bottom going up).

One might normally assume that the coatee should have buttons with the Virginia state seal, but sometimes other style buttons were substituted due to a lack of supply. There is also a possibility that some of the buttons were added at a later time, possibly by Mr. Taylor, in attempt to make the piece more saleable.

Born on Halloween 1824, John Quincy Adams Nadenbousch was a prominent businessman in Berkeley County, Virginia. In response to John Brown's Raid, he helped reactivate the local militia company, the Berkeley Border Guards on October 31, 1859. After Virginia left the Union, the Border Guards became Company D of the 2nd Virginia Infantry. Nadenbousch rose through the ranks and was promoted to colonel of the 2nd Virginia in March 1863. He resigned in April 1864 due to the lingering effects of a groin wound received during the Battle of Second Manassas. After the war, Nadenbousch returned to Berkeley County and lived there until his death in September 1892.

 Company of Military Historians                                                                                      CMH0148

Virginia War Museum                                                                                               WM(L)01.1.22
Of particular interest here, are the federal staff buttons mentioned above and pictured below.  These were used by both sides during the conflict. They are found on a vast assortment of uniforms, regulation and non-regulation.  Finding them on Confederate gray and Southern militia is common.  They were readily available and easy to acquire.  Many soldiers  had used them in previous service and continued their use.  The eagle device itself was accepted as "American", by North and South alike, and Southerners  certainly saw themselves as Americans .