Major General Thomas S. Jesup.  Quartermaster General of the United States Army 1818-1860.
General Jesup was born in Berkeley Co. Virginia (now W. Va.) in 1788, the son of a Revolutionary War officer.  He joined the Infantry, and fought in the War of 1812, where he gained rank and distinction for his service.  In 1818, he was appointed Quartermaster of the Army , by President James Monroe, a post he held for 42 years.  Andrew Jackson dispatched him to command the Army during the Second Seminole War.  His successful efforts to suppress and relocate the Seminoles, along with his role in the capture of the great chief Osceola, made his name famous throughout the country.  His service continued into the War with Mexico where he capably saw to the supply and needs of the American Army on a foreign field.  In Washington, he presided over vast sums of expenditures and government contracts, and became an insider to both political and military circles of power and influence. He remained at his post till his death in 1860, and is remembered as the father of the modern Quartermaster Corps.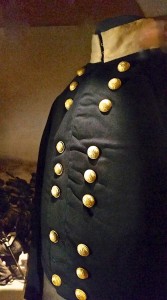 Above, the regulation coat of General Jesup, on display at the U.S. Army Quartermaster Museum, Fort Lee, Virginia.  Safe to assume that the General would have been first to conform to Army regulations of uniform dress and trim.  This is an early example of an officers coat of the mid 1830's -1840's.  Probably one of the initial type of uniform coats to use  general staff buttons as the new, General Order # 36 specified.  This was a period during which the Army was trying to standardize and make uniform its appearance, as custom designed uniforms of both the Regular Army and the numerous militia units were becoming problematic. The three sections of double breasted buttons are early ;  "R & W Robinson/Makers/Attleboro, Mass".  The uniform is splendid in it's conserved state, and retains that marshal grandeur expected of a General officer.
---
* Credit and special thanks to;
US Army Quartermaster Museum,  Fort Lee, Virginia       www.qmmuseum.lee.army.mil/
The US Army Quartermaster Foundation
Luther Hanson;  Chief Historian/Collections, US Army Quartermaster Museum, Fort Lee, Virginia.
*References
The Second Seminole War Diary of General Thomas Sidney Jesup. www.floridamemory.com/collections/jesup/
Jahoda,Gloria.  The Trail of Tears: Story of the American Indian Removals 1813-1855.   Holt, Rinehart, and Winston.  New York  1975
Find a Grave:  Grave site;  Oak Hill Cemetery,  Washington, DC.             Plot Chapel Valley  Lot # 481