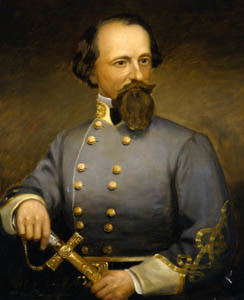 Born on the 4th of July 1828, at Bonarva Plantation in Tyrell County, James Johnston Pettigrew would become one of North Carolina's pre-eminent scholars and Confederate generals. He was educated at Bingham Academy near Hillsborough, and later graduated from The University of North Carolina at Chapel Hill as class valedictorian in 1847.  His skills at mathematics enabled him to an appointment by President James K. Polk (UNC class 1818) ,  as a professor at the National Observatory in Washington D.C.  After a short term there,  he sought and obtained a law degree.  Later, he continued his studies in Europe and developed his linguistic talents, attaining fluency in several continental languages as well as Hebrew and Arabic.  By the outbreak of the Civil War, he was a practicing lawyer residing in Charleston , South Carolina and considered to be one of the most capable and promising minds in the South.
Oil painting from North Carolina Museum of History. H.1914.267 by William Garl Brown, 1864.
    Pettigrew was never an ardent secessionist, and believed that a war between the North and South would be a long and tragic affair.  None the less, when South Carolina seceded , he availed himself for  service to the Southern cause and was witness to the initial acts of  war at Fort Sumpter and  Charleston.  He  enlisted in the Hampton Legion and went north to Virginia .  After a few months of service, he accepted a commission as Colonel of the 22nd North Carolina Regiment.  At the battle of Seven Pines he was wounded, captured and later exchanged.  Returning to service, he was promoted to brigade command as a Brigadier General.  It was in May of 1863 that Pettigrew's brigade joined Lee's Army of Northern Virginia and began movements into what would become the Gettysburg campaign and a date with destiny.
        On July 1, 1863, as an advanced unit of Heth's division of A.P. Hill's Corp, Pettigrew's troops were part of the initial contact with Union forces on Mcpherson's Ridge.  The division saw continuous fighting throughout the day, with the General himself being wounded , and the Union troops, including the famous" Iron Brigade", being pushed back off the ridge.   Pettigrew assumed command of the division . Battered by the days heavy combat, his troops rested until called back into service as part of Lee's last offensive effort of the campaign; the assault against the Union center known as Pickett's charge.  Pettigrew's division formed the left of Lee's attack.  Here, the day before his 35th birthday, he led his troops to what is known as the "high water" mark of the Confederacy.  The charge against Cemetery Ridge cost what was left of the division dearly, and the brigade suffered some of the heaviest casualties of the battle.  Pettigrew himself was wounded. The General survived the fateful attack only to be mortally wounded on July ,14, while covering the Army's retreat across the Potomac at Falling Waters, Maryland.    He was taken to Edgewood Manor near Bunker Hill, West Virginia and died of his wounds 3 days later. The South had lost the contribution and potential of another gifted son.
    The General was attended by his faithful servant , Peter, who was with him when he died and brought his body and personal effects back to North Carolina to lay in state in the capital building.  He was buried in Raleigh and later  reinterred in the family cemetery at Bonarva, where he remains today.
---
Dress Uniform of General Pettigrew
A beautifully tailored and preserved dress uniform coat of General Pettigrew on display at the North Carolina Museum of History in Raleigh. It  appears to be of the" Charleston" pattern.  A museum conservator relates  " a yellow/gold silk lining was present, along with a Charleston makers label".  The General Staff buttons are all of the same die face and "*Extra/Quality*" backmarks.  A 1914 booklet, "A Guide to the Hall of History" by Fred A. Olds cites the uniform being donated by the Pettigrew family. (p 44, Case No. 4). The general never married, but was one of nine children. The Pettigrew family is listed in the same booklet (p 95) as donors to the Hall of History and (p 23) as donors of "personal relics of the General…"
Accession Card: 1914.84.11       "Confederate staff. Blue-Grey wool. Buff collar,cuffs, and piping: Brigadier General on sleeves; General insignia on collars. Buttons: U.S. Staff Eagles by Extra Quality".
---
Federal General Staff Buttons as worn on General Pettigrew's uniform coat.  The General had no pre war military experience so these union buttons were not dear to him from prior service.  He was a man of extraordinary wealth and could've afforded imported Confederate buttons from England, or chosen state buttons from North Carolina, instead these were sewn onto the coat.
---
Fred A. Olds;  "Father of the North Carolina Museum of History"
Fred A.  Olds was a young boy of 10 when news of Gettysburg reached North Carolina.  Like boys all over the south, he was too young to fight, but proud of the South and it's Army.  He would've learned of the battles and the great southern heroes from returning veterans first hand.  Pettigrew's death and the infamous charge that would later bear his name, must have broken young hearts all over North Carolina, including young Fred's.  He would later grow up to become the initial benefactor and "collector" of the state's first historical museum, the Hall of History. He personally amassed a collection of artifacts and  papers of North Carolina history and culture that became the foundation for the N. C. Museum of History today. He was especially successful in the collection of Civil War artifacts and battle flags.
Fred is pictured here posing for a  museum photographer,  wearing the  actual uniforms and personal field equipment of some North Carolina Confederate Generals.  Pettigrew's coat, Dorsey Pender's pants, and Robert Ransom's cap are cited on the accession cards.  The arms and accoutrements are artifacts belonging to all three. These photographs , and many others with various Civil War uniforms and equipment, were shot between 1907 and 1910.  He used them to promote the museum and encourage the support of donors.  He was an early proponent of the state's historical role and would use items from  various exhibits to advocate for the museum and generate public interest.  One can only imagine what an irritant such a practice  would be to the modern curator of today.  None the less, what a thrill it must've been to have handled such items, often , directly from their sources !
---
Special credits and sincerest thanks to; 
The North Carolina Museum of History, Raleigh, North Carolina. ncmuseumofhistory.org
Paige Myers.  Textile Conservator. North Carolina Museum of History  paige.myers@ncdcr.gov  . Ms Myers graciously assisted me with explaining the intricacies of the Pettigrew uniform and it's accession information.
Kent Thompson. Photography.  North Carolina Museum of History .kent.thompson@ncdcr.gov . Mr Thompson assistance with photographs.
Eric Blevins. Photography eric.blevins@ncdcr.gov
William Leigh. civilwarbuttons.com . Assistance with identification of the uniform buttons.
---
References:
Clyde N. Wilson. "Carolina Cavalier: The Life and Mind of James Johnston Pettigrew" ( The University of Georgia Press, Athens 1990)
Clyde N. Wilson." The Most Promising Man in the South: James Johnston Pettigrew and his men at Gettysburg" (Abilene,Texas: McWhinney Foundation Press, 1998)
Clark, Walter. "Histories of the Several Regiments and Battalions from North Carolina in the Great War 1861-1865.
Fred A Olds. "A Guide to the Hall of History: a publication of North Carolina's historical artifacts and papers.  1914.
On-Line ;  NCPedia.com.  James Johnston Pettigrew Bio.